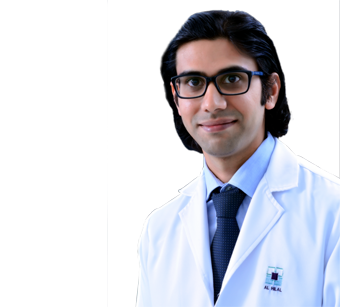 Dr TANVEER MOIDIN
General Dentist
Dentistry
BDS, MDS
11 years of experience
Riffa (Bahrain)
About Dr TANVEER MOIDIN
Dr Tanveer Moidin is an excellent General Dentist with over 8 years of wide experience. He has a special interest in the field of Periodontics which deals with the supporting structure of teeth and is important in replacing missing teeth with dental implants. He is an expert in both conservative management as well as surgical treatment for various dental issues. He is skilled at performing gum surgeries, regenerative procedures, periodontal gum pocket reduction procedures as well as dental crown lengthening procedures. Dr Tanveer is a highly skilled dentist who regularly attends conferences and workshops too, to keep his knowledge base updated.
Excellence & Experience
Area of excellence
Periodontics
Implants
Gum surgeries
Surgical & Non-surgical treatments
General Dentistry
Level of Experience
Al Hilal Hospital, Riffa, Bahrain – 2012 to Date
Beyond Smiles Dental clinic, Bangalore, India - Feb 2012- Aug 2012
Malabar Dental College, Kerala, India – 2010 - 2012
The Dentist, Mangalore, India – 2006 - 2008
Awards & Academics
Academics Details
BDS - Yenepoya Dental College, Karnataka
MDS (Periodontology) - Yenepoya Dental College, Karnataka 2010
Out Patient Timings
The outpatient timings at Badr Al Samaa Hospitals have been planned in such a way that your choice of doctor is available whenever you are free.
Sunday
2:00 PM - 10:00 PM
Riffa - Bahrain
Monday
1:30 PM - 9:30 PM
Riffa - Bahrain
Tuesday
1:30 PM - 9:30 PM
Riffa - Bahrain
Wednesday
1:30 PM - 9:30 PM
Riffa - Bahrain
Thursday
Friday
8:00 AM - 12:00 PM
Riffa - Bahrain
5:00 PM - 10:00 PM
Riffa - Bahrain
Saturday
1:30 PM - 9:30 PM
Riffa - Bahrain