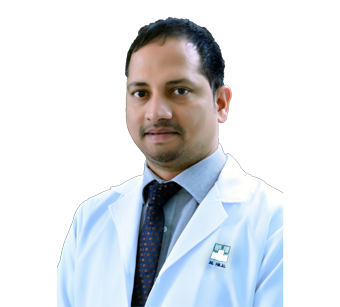 Dr NAVEEN KUMAR KAMMARI
Specialist
Internal Medicine
MBBS, MD
12 years of experience
Riffa (Bahrain), Manama (Bahrain)
About Dr NAVEEN KUMAR KAMMARI
Dr Naveen Kumar Kammari is an excellent Specialist in Internal Medicine with over 8 years of experience. He is a highly skilled and adaptable physician who believes in following the national and international guidelines for evidence-based medical practices. He excels in the treatment and management of chronic diseases like diabetes, hypertension and thyroid disorders. He is also very efficient in treating infectious diseases like urinary tract infections, respiratory tract infections, etc. His skills are very useful in emergency situations that include Myocardial infarction and Cerebro-vascular accidents. Aside from all this, he is proficient in managing the OP, inpatients and the ICU.
Excellence & Experience
Area of excellence
Management of Diabetes, Hypertension, Thyroid disorder
General medical problems like infection (e.g. UTI, RTI, etc.)
Handling acute emergency cases such as MI, CVA
Management of acute medical in-patients and critically ill patients
Level of Experience
Medical Registrar - Acute Medical Care Unit, Yashoda Super Specialty Hospital, Hyderabad, India – 3.5 years
Junior Consultant Physician at Yashoda Super Specialty Hospital, Hyderabad, India – 2 years
Consultant Physician and Diabetologist at Mahavir Hospital Hyderabad and Apollo Hospitals, Hyderabad, India - More than 2 years
Awards & Academics
Academics Details
MBBS - Gandhi Medical College, Hyderabad, India - 2003
MD - Kathmandu University - Manipal Education and Medical Board, Bangalore, India - 2009
Out Patient Timings
The outpatient timings at Badr Al Samaa Hospitals have been planned in such a way that your choice of doctor is available whenever you are free.
Sunday
9:00 AM - 1:00 PM
Riffa - Bahrain
Monday
9:00 AM - 1:00 PM
Riffa - Bahrain
Tuesday
9:00 AM - 1:00 PM
Riffa - Bahrain
Wednesday
9:00 AM - 1:00 PM
Riffa - Bahrain
Thursday
Friday
9:00 AM - 1:00 PM
Riffa - Bahrain
5:00 PM - 9:00 PM
Riffa - Bahrain
Saturday
9:00 AM - 1:00 PM
Riffa - Bahrain