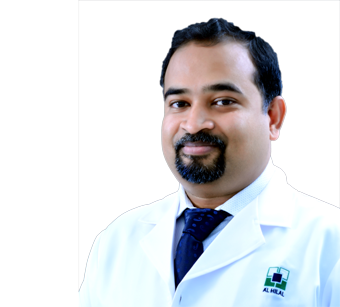 Dr KURIAN JACOB
Specialist
Internal Medicine
MBBS, MD
14 years of experience
Riffa (Bahrain)
About Dr KURIAN JACOB
Dr Kurian Jacob is a highly skilled Internal Medicine Physician with over 10 years of specialised experience. His vast exposure while working in India has helped him to become an excellent physician. He has great diagnostic and treatment skills where communicable and non-communicable diseases are concerned. He also has a special interest in the management of chronic conditions like diabetes and hypertension. Aside from all this, Dr Kurian manages the OP and inpatients as well as medical ICU patients. His skills come in handy in the emergency section too as he is excellent in critical care.
Excellence & Experience
Area of excellence
Diabetes mellitus & its complications
Hypertension
Infectious diseases
Emergency care
Level of Experience
Residency, MD (Internal Med) - St. John's Med. College, Bangalore, India – 2006-2009
Consultant Internal Medicine - Mandiram Hospital Kottayam, Kerala, India – 2010-2011
Lecturer (Senior Resident) - Internal Medicine & Haematology, St. John's Med. College, Bangalore, India - 2011-2014
Specialist Internal Medicine - Al Hilal Medical Centre, Riffa – 2014 to Date
Awards & Academics
Academics Details
MBBS - St John's Medical College and Hospital, Bangalore, India
MD - St John's Medical College and Hospitals, Bangalore, India- 2009
Out Patient Timings
The outpatient timings at Badr Al Samaa Hospitals have been planned in such a way that your choice of doctor is available whenever you are free.
Sunday
9:00 AM - 12:00 PM
Riffa - Bahrain
4:30 PM - 9:30 PM
Riffa - Bahrain
Monday
9:00 AM - 12:00 PM
Riffa - Bahrain
4:30 PM - 9:30 PM
Riffa - Bahrain
Tuesday
9:00 AM - 12:00 PM
Riffa - Bahrain
4:30 PM - 9:30 PM
Riffa - Bahrain
Wednesday
9:00 AM - 12:00 PM
Riffa - Bahrain
4:30 PM - 9:30 PM
Riffa - Bahrain
Thursday
9:00 AM - 12:00 PM
Riffa - Bahrain
4:30 PM - 9:30 PM
Riffa - Bahrain
Friday
Saturday
9:00 AM - 12:00 PM
Riffa - Bahrain
4:30 PM - 9:30 PM
Riffa - Bahrain