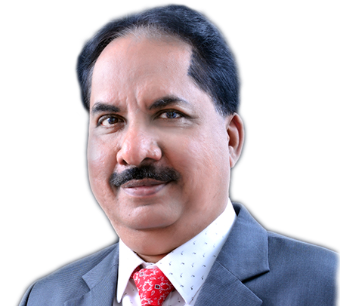 Dr SURESH DAIVASIKAMANI
Consultant Gastroenterologist
Gastroentrology
MBBS, MD, DM
38 years of experience
Muharraq (Bahrain), Riffa (Bahrain)
About Dr SURESH DAIVASIKAMANI
Dr Suresh Daivasikamani is a dynamic consultant Gastroenterologist with more than 34 years of experience under his belt. He is an expert in Diagnostic gastrology, colonoscopy, Endoscopic biopsy, endoscopic polypectomy, endoscopic sclerotherapy, endoscopic band ligation, endoscopic dilation, endoscopic tube placement, endoscopic injections, etc. His expertise also extends to the management of hepatic encephalopathy and inflammatory bowel disease. He is excellent in treating gastric emergencies like GI bleed and other traumas related to the gastric tract. Dr Suresh holds memberships of various prestigious medical bodies too. He is an avid professional who believes in keeping himself updated by regularly attending workshops and conferences.
Excellence & Experience
Area of excellence
Diagnostic gastrology
Colonoscopy
Endoscopic biopsy
Endoscopic polypectomy
Endoscopic sclerotherapy
Endoscopic band ligation
Endoscopic dilation
Endoscopic tube placement
Endoscopic injections
Gastro emergencies like GI bleed and Hepatic encephalopathy
Inflammatory bowel diseases
Level of Experience
1986 -2006 - T M Medical Service (as Assistant Professor of Medicine from 1994 to 1999 & as Assistant Professor of Gastroenterology from 1999 to 2006)
2006 - 2014 - Senior Consultant & HOD of Gastroenterology, Maldives
2014 to Date – Consultant Gastroenterologist, Al Hilal Hospital, Bahrain
Awards & Academics
Academics Details
MBBS - Madras University, India - 1985
MD - Dr MGR Medical University, India - 1992
DM - DR MGR Medical University, India - 1999
Out Patient Timings
The outpatient timings at Badr Al Samaa Hospitals have been planned in such a way that your choice of doctor is available whenever you are free.
Sunday
9:30 AM - 12:00 PM
Muharraq - Bahrain
4:30 PM - 9:30 PM
Muharraq - Bahrain
Monday
9:30 AM - 12:00 PM
Muharraq - Bahrain
4:30 PM - 9:30 PM
Riffa - Bahrain
Tuesday
9:30 AM - 12:00 PM
Muharraq - Bahrain
4:30 PM - 9:30 PM
Muharraq - Bahrain
Wednesday
9:30 AM - 12:00 PM
Muharraq - Bahrain
4:30 PM - 9:30 PM
Muharraq - Bahrain
Thursday
9:30 AM - 12:00 PM
Muharraq - Bahrain
4:30 PM - 9:30 PM
Muharraq - Bahrain
Friday
Saturday
9:30 AM - 12:00 PM
Muharraq - Bahrain
4:30 PM - 9:30 PM
Muharraq - Bahrain