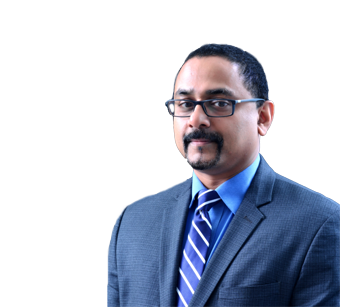 DR MONISH CHERIAN
Consultant Urology
Urology & Andrology
MBBS, MS
18 years of experience
Muharraq (Bahrain), Riffa (Bahrain)
About DR MONISH CHERIAN
Dr Monish Cherian is a Senior Consultant Urologist with more than 18 years of exemplary experience under his belt. He has trained and worked in some of the premier colleges in India, giving him the outstanding experience to place him at the pinnacle of knowledge in his field. Though he spent the first few years of his career in teaching and Renal Transplantation, he is currently focused on Endo-Urology. His areas of excellence are in minimally invasive surgeries related to prostate, varicocele, etc. Dr Monish provides his specialist skills at the Muharraq and Riffa branches of Al Hilal Hospital.
Excellence & Experience
Area of excellence
Endo-Urology treatment for kidney
Ureteral & Bladder stones
Minimally invasive surgery for prostate
Minimally invasive surgery for male infertility (Varicocele)
Uro-Oncology
Circumcision
Inguinal Hernia repair
Level of Experience
1998-2002 - CMC Vellore, India
2002-2008 - MOSC Medical College, Kolenchery, Kerala, India
2008 to Date - Al Hilal Hospital Muharraq, Bahrain
Out Patient Timings
The outpatient timings at Badr Al Samaa Hospitals have been planned in such a way that your choice of doctor is available whenever you are free.
Sunday
9:30 AM - 12:30 PM
Muharraq - Bahrain
4:30 PM - 9:30 PM
Muharraq - Bahrain
Monday
9:30 AM - 12:30 PM
Muharraq - Bahrain
4:30 PM - 9:30 PM
Muharraq - Bahrain
Tuesday
9:30 AM - 12:30 PM
Muharraq - Bahrain
4:30 PM - 9:30 PM
Muharraq - Bahrain
Wednesday
9:00 AM - 5:00 PM
Riffa - Bahrain
Thursday
9:30 AM - 12:30 PM
Muharraq - Bahrain
4:30 PM - 9:30 PM
Muharraq - Bahrain
Friday
4:30 PM - 9:30 PM
Muharraq - Bahrain
Saturday
9:30 AM - 12:30 PM
Muharraq - Bahrain
4:30 PM - 9:30 PM
Muharraq - Bahrain