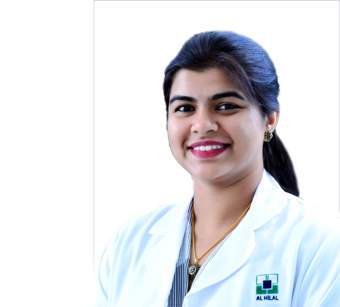 DR TANYA SUSANA
Specialist
Obstetrics & Gynaecology
MBBS, MS
7 years of experience
Riffa (Bahrain)
About DR TANYA SUSANA
Dr Tanya Susana is a highly skilled Specialist Obstetrician and Gynaecologist with over 7 years of experience post specialisation. She is an expert in managing antenatal and postnatal care as well as taking care of high-risk pregnancies. She has a special interest in the treatment of infertility cases as well as menstrual abnormalities and the accompanying side effects of menopause. Aside from this, she attends to the changing needs of adolescents and their hormonal changes. Dr Tanya is also experienced in performing obstetric ultrasound checkups and handles the Obstetrics OP clinic. She has also published and presented original research papers in conferences.
Excellence & Experience
Area of excellence
Antenatal and postnatal care
High-risk pregnancies
Gynaecology infertility cases
Menstrual abnormalities
Obstetrics
USG
Level of Experience
2.5 years in Kochi, India
1 year in Bahrain
Awards & Academics
Academics Details
MBBS – AJIMS, Rajiv Gandhi University, Mangalore, India - 2005
MS (Obs/Gyn) - K S Hegde Medical Academy, Mangalore, India - 2012
Out Patient Timings
The outpatient timings at Badr Al Samaa Hospitals have been planned in such a way that your choice of doctor is available whenever you are free.
Sunday
8:00 AM - 12:00 PM
Riffa - Bahrain
4:00 PM - 8:00 PM
Riffa - Bahrain
Monday
8:00 AM - 12:00 PM
Riffa - Bahrain
4:00 PM - 8:00 PM
Riffa - Bahrain
Tuesday
8:00 AM - 12:00 PM
Riffa - Bahrain
4:00 PM - 8:00 PM
Riffa - Bahrain
Wednesday
8:00 AM - 12:00 PM
Riffa - Bahrain
4:00 PM - 8:00 PM
Riffa - Bahrain
Thursday
Friday
8:00 AM - 12:00 PM
Riffa - Bahrain
4:00 PM - 8:00 PM
Riffa - Bahrain
Saturday
8:00 AM - 12:00 PM
Riffa - Bahrain
4:00 PM - 8:00 PM
Riffa - Bahrain