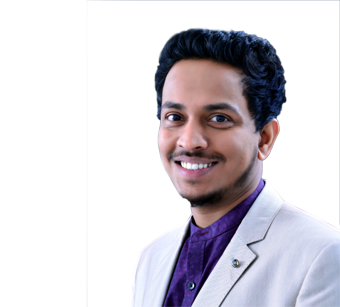 DR RAKESH MOHAN R
Specialist
Orthopaedics
MBBS, MS
9 years of experience
Riffa (Bahrain)
About DR RAKESH MOHAN R
Dr Rakesh Mohan is an excellent Orthopaedic Surgeon with over 8 years of specialised experience under his belt. Aside from providing conservative treatment in the OP, he also provides surgical treatments keeping the patient's needs in mind. He performs both elective surgeries as well as emergency surgeries for trauma patients. He is highly skilled in performing both minimal access surgeries as well as open surgeries. He is skilled in treating various types of fractures and full and partial joint replacements for the hip, shoulders and knees. Dr Rakesh is a very talented surgeon and member of many prestigious medical bodies.
Excellence & Experience
Area of excellence
Orthopaedic Trauma
Sports injuries
Minimal Access surgeries
Arthroplasties
Fracture surgeries
Conservative and surgical management
Level of Experience
Junior Resident- Department of Orthopaedics, KIMS Bangalore, Karnataka, India - 2011-2014
Consultant Orthopaedic Surgeon - Department of Orthopaedics, VIMS, Karunagapally, Kerala, India - 2014-2017
Specialist Orthopaedic Surgeon - Al Hilal Medical Centre, Riffa - May 2017 to Date
Awards & Academics
Academics Details
MBBS - KIMS Bangalore India - 2009
MS (Orthopaedics) - KIMS Bangalore, India - 2014
Out Patient Timings
The outpatient timings at Badr Al Samaa Hospitals have been planned in such a way that your choice of doctor is available whenever you are free.
Sunday
9:00 AM - 1:00 PM
Riffa - Bahrain
5:30 PM - 9:30 PM
Riffa - Bahrain
Monday
9:00 AM - 1:00 PM
Riffa - Bahrain
5:30 PM - 9:30 PM
Riffa - Bahrain
Tuesday
9:00 AM - 1:00 PM
Riffa - Bahrain
5:30 PM - 9:30 PM
Riffa - Bahrain
Wednesday
9:00 AM - 1:00 PM
Riffa - Bahrain
5:30 PM - 9:30 PM
Riffa - Bahrain
Thursday
9:00 AM - 1:00 PM
Riffa - Bahrain
5:30 PM - 9:30 PM
Riffa - Bahrain
Friday
Saturday
9:00 AM - 1:00 PM
Riffa - Bahrain
5:30 PM - 9:30 PM
Riffa - Bahrain